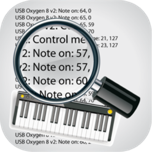 MIDI Loupe

MIDI Loupe is a little tool, which allows you to monitor and log MIDI messages from multiple MIDI devices.
Every registered MIDI Source is listed and has a separate color, so you can easy differentiate between the messages.
You can save the logs to disk and also load them for later inspection.
Warning - The App is not compatible with macOS 11 Big Sur at the moment!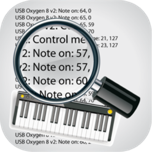 MIDI Loupe

MIDI Loupe ist ein nützliches Werkzeug, wenn Sie MIDI Daten von verschiedenen MIDI Quellen überwachen wollen. Jede MIDI Quelle wird mit einer eigenen Farbe dargestellt, so dass Sie die Messages leicht unterscheiden können. In der Geräte-Liste können Sie die Quellen auswählen, deren Datenstrom Sie überwachen möchten.
Sie können die aufgezeichneten Log Daten auch in eine Date speichern und später wieder laden.
Warnung - Das Programm läuft momentan nicht problemlos unter macOS 11 Big Sur!